Activities : FournetBlancheroche, nature at hand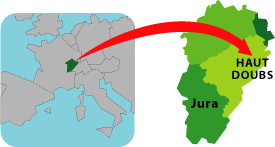 Fournet-Blancheroche is situated in the haut-Doubs on the Swiss border, on the 987 metres in heights, on the massif of Jura. The village includes 270 inhabitants, we call them "Fournets". Its rocky cliffs give an immensity and a desert side to its landscape. Impregnable points of view overhang valley of the Doubs.
An airfield is situated on the municipality in "Joux-Lavaux", where we can practise flights of ULM. Its greens pastures populated with montbéliardescows and comtois horses, its forests of fir trees and spruces, the shout and the tracks of wild animals, the hikes, the walks in ski, in rackets or in mountain bike will free your spirit and leave you unforgettable memories.
Death Scales, Via Ferrata in Scales site, Death Valley,Ash Belvedere, the Tune and its ballads at Doubs edge, Mountain of Prel, French Swiss fly fishing, Neuchâtel lake andNobis'. Almost all walks can be made since the departure of the house without taking your vehicle.
ACTIVITIES & TOURISM IN HAUT-DOUBS
On the spot in summer: hike, mountain bike, on signposted courses and possibility of exit in groups (see tourist office MAICHE, THE RUSSEY).
On the spot in winter: Cross-country skiing, rackets.
In 2 km: airfield, initiation and flight of ULM.
In 4 km: At Saint Pierre's comb site, short ski method (3 téleskis), ice rink, accrobranche, open airmultiple activities. 
In 7 km: Discovery farm, Barboux.
In 9 km: Tennis, in Le Russey and Maîche.
In 16 km: Bowling, in les Fins.
Between 5 and 20 km: fly fishing on Doubs and Dessoubre.
In 12 km: swimming pool covered and warmed in Maîche, walk in carriage, in winter joeringski, ballad in sleds with comtois Horses.
In 19 km: Watchmaker museum in Switzerland in Chaux-de-Fonds. Neuchâtel lake.
In the surroundings: visit of the ponds of the Doubs by boats to Villers-le-Lac, natural ice rink on Doubs in winter, Consolation circus, Goumois and its kayak course, Grand-CombeChateleucomtoises farms 
At one o'clock of car:Joux castle, Besançon'scitadel ,Poudrey's abyss, PEUGEOT museum, PONTARLIER city and its distilleries.
Jura's wine road in Poligny and Arbois
GOLF 18 HOLES: Besançon-Saone = 70 km. Pontarlier – Golf les Etraches = 40 km